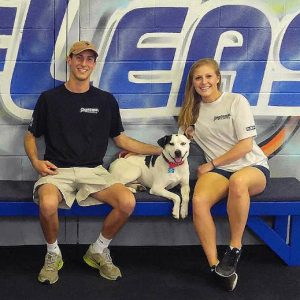 Matt and Brooke have over 16 years of dog handling experience.
Matt's love and passion for dogs came early as he grew up in a household of dogs. His family bred and raised Labrador Retrievers, which gave Matt the ability to learn about dogs from the day he was born. One of the biggest lessons that Matt learned from his pack of dogs was the importance of having a dog trained to be a respectable member of the family. Matt started working with dog rescues at the age of 10 and realized he could make a huge impact on the relationship between dog and owner by using training to create an unbreakable bond. He learned that if he could train the dogs in the rescue to be respectful, they would have a higher chance of finding a forever home.  His ability to see this gave him his passion for training. He believes that no dog is ever hopeless and strives to make every dog a wonderful member of the family so their owners love and enjoy them. Matt started working for Off Leash K9 Training Richmond, VA in the Summer of 2015 and instantly knew this was job he was made for.
Brooke grew up surrounded by animals of all sizes, from cows and horses to dogs, cats, and tiny pigs. From childhood Brooke had a passion to rescue animals and was always the child to bring home any stray she could find. Whether that stray be a dog, cat, or snake, Brooke wanted to take it home. Her innate drive to rescue animals instilled in her a love for dogs and guided her to becoming a veterinary technician. Brooke worked as a vet tech for two years in an emergency animal hospital. This gave her incredible experience handling dogs of all sizes and temperaments. She learned how to deal with stressed and frightened dogs in uncomfortable situations, and embraced handling them in a calm manner to make sure they could be treated. After working at the animal hospital Brooke knew she wanted to work with dogs forever and that led her to dog training. She loves seeing a dog transform into a confident and respectable pack member.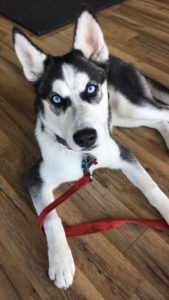 Between the two of them, they have 5 unique rescue dogs including a Pit bull/ Mastiff, an American Staffordshire Terrier, 2 German Shepherd Dogs, and a Native American Indian Dog. All five dogs came to them with different problems, whether it was aggression, fearfulness, or unreliability. Through hard work, all the dogs are now off leash and loving life. They are true examples of what hard work and proper training can do to turn a dog's life around and make them reliable in any situation.
Dogs are now another member of the family and just like you send your children to school, its time to send your dog to school as well. Every dog needs to be given a job, if not they will self-employ. Here at Off Leash K9 Training we want to give your dog a job and that is to become a reliable member of the family.
Are you ready to have your dog 100% off leash, have zero anxiety in any situation with your dog, and have a wonderful dog that respects you and the family? If so, Off Leash K9 Training can provide you with all the tools to make your dog unbelievable.
Dog Obedience Training
Off Leash K9 Training is known for the high level of obedience in real world environments; however, we also specialize in behavioral modification, nosework/detection, protection, service and therapy dog certifications, and K9 tracking training! Give your dog the professional dog training he/she needs to be a happy member of your household. Create a more comfortable environment for your family with an obedient dog.
Contact us to sign up for our Dog Training Program
If you are looking to maximizing your dog's natural abilities and have an obedient pet that you can control with ease, contact OLK9, Master Dog Trainers. Your privacy and pet's issues are protected. You are offered the utmost consideration to make sure your situation with your pet/s. Expert Training for all breeds, all ages, and all issues.
Click the link to schedule lessons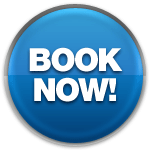 ***YOU MUST PAY FOR YOUR DESIRED TRAINING PACKAGE BEFORE SCHEDULING LESSONS***
**Email us at: [email protected] for more information about our Military/Emergency Services discount, and our Multiple Dog discount!